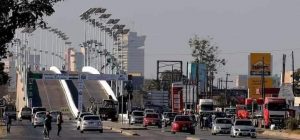 President Edgar Lungu has reiterated his government's commitment to improving the road safety profile of the country through the construction of safer road infrastructure across the country.
The president was speaking on Monday 3rd August, 2020 in Lusaka when he commissioned the Makeni Flyover Bridge on the Kafue road, the first to be completed among the four to be constructed in Lusaka under the Lusaka decongestion project.
President Lungu said the Lusaka decongestion project is one of the many projects the Government is undertaking to ease the movement of people, goods and services and reduce the numbers of road traffic accidents.
President Lungu is happy that all safety measures have been taken into consideration in the construction of the road project.
He said the government will continue to invest in road infrastructure projects as it is a catalyst to economic development and reduction in road accidents.
The Lusaka decongestion project involves 91.4 kilometres of road rehabilitation, widening and construction of which 29.3 kilometres is dedicated to bus lanes.
The commissioned flyover bridge is part of the four flyover bridges to be constructed, others being Munali traffic circle, Longacres traffic circle, and Arcades junction.