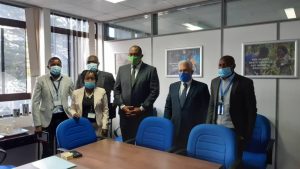 RTSA Director & Chief Executive Officer, Mr. Gladwell Banda, (third from right) yesterday 17th June, 2020 paid a courtesy call on United Nations Development Programme (UNDP) Resident Representative, Mr. Lionel Laurens to appreciate the partnership that exists between the two organisations. The RTSA and UNDP signed an agreement last year under the 'Pedestrian First' Zambia project. The project advocates for more and safer infrastructure for pedestrians, bicycles and wheelchair users throughout Zambia and change attitudes towards non- motorized transport (NMT).
The Pedestrian First goals include;
1. Strengthened policy and implementation on the construction of walkways and cycle lanes to create an enabling environment to support the principle of liveable cities and safer roads.
2. Enhanced multi-stakeholder advocacy for an inclusive, safe and sustainable mobility for non-motorized road users.
3. Standardized physical designs and construction of walkways and bikeways meeting the principles of sustainable and liveable cities and safer roads.
Activities under this project for 2019 were to take place in Lusaka. The project is focused on accessibility, bicycle, wheel chairs and pedestrian transportation also referred to as 'walk ability'. The project will work with stakeholders that include government, UN Agencies, civil society and private sector to achieve the three goals.
The project will build capacity of local authorities, NGOs and private partners around sustainable transport and take a holistic approach to solving non-motorized transport challenges.